Xiaomi 12 Specifications And Review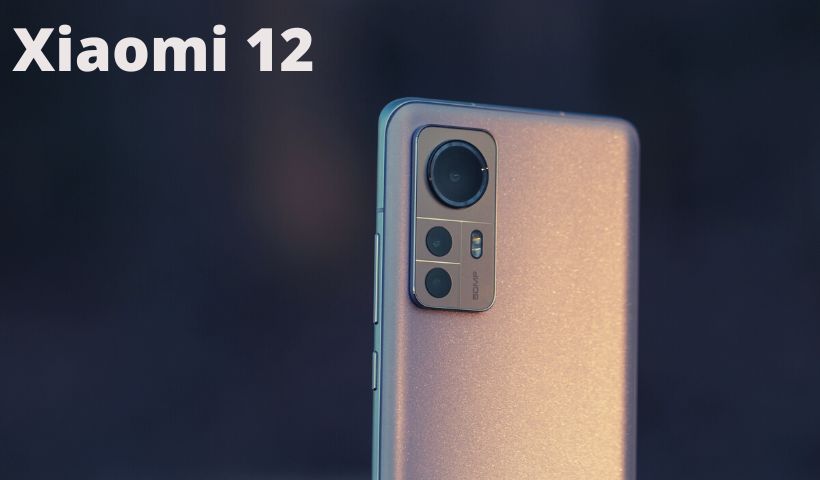 The Xiaomi 12 combines a powerful processor with a superb AMOLED display, but that's not enough to forget its few shortcomings.
Fast wired and wireless charging
Lack of fluidity of the MIUI
The Xiaomi 12 has it all, from its easy-to-handle design to its array of impressive specs. However, it also reveals a few flaws that could point you towards the competition...
Review: The Xiaomi 12
Xiaomi unveiled its three new smartphones under the names of Xiaomi 12, 12 Pro and 12X. Its standard model is a very compact version, leaving the 12 Pro to users looking for a larger and more powerful smartphone at the same time.  
Marketed from € 899.90, the Xiaomi 12 has many advantages, we are thinking in particular of its screen, its overall performance, its loading speed and, to a certain extent, its photographic quality.  
However, some big drawbacks such as its autonomy, its lack of waterproofness and its software defects could put it off.
Design
Compact design 

Nice screen-to-body ratio 

No IP rating  
By modern design standards, the Xiaomi 12 looks tiny. Indeed, it is much smaller than its predecessor or most of its competitors. This attribute has its advantages since there is a lack of compact Android devices in the market. 
Its screen / body ratio is excellent, it has a metal frame similar to that of the Pixel 6, which thinns out to become a thin strip to accommodate its curved screen.  
Its back, which houses large photo sensors, sports a frosted texture with a fairly low-end appearance. 
We tried its purple model, from some angles it has a matte finish and from others it shimmers with a glitter effect. If you are not attracted by this color, then note that it exists in gray and blue. 
Although Xiaomi strives to improve its build quality, especially with the integration of Gorilla Glass Victus and 5 lenses, we can only be disappointed to see that this new flagship does not come with an IP rating.  
With this smartphone, Xiaomi provides a transparent silicone case.  
Screen and speakers
6.28 inch AMOLED  

Full-HD  

120Hz with AdaptiveSync   
The Xiaomi 12's screen measures 6.28 inches, a small ilk that ultimately makes it easier to handle.  
Its curved edges are no longer really relevant in the market, so we would understand that it divides users. For us, this is no problem, we liked the way it lights up when receiving notifications. 
On the performance side, the Xiaomi 12 offers the experience expected of a flagship. The AMOLED display has Full HD+ resolution and supports low blue light certification, HDR10+ and Dolby Vision.  
Its refresh rate is 120Hz, with a touch sampling rate of 480Hz and, according to Xiaomi, it can reach a maximum brightness of 1100 nits. We measured it in direct sunlight at 772 nits, and 500 nits with the auto setting turned off.   
We regret that it does not take advantage of AdaptiveSync Pro technology, as is the case of the 12 Pro. This feature allows its refresh rate to be dynamically adjusted up to 1Hz to save battery power.   
Overall, despite a simple switch from 60Hz to 120Hz, the Xiaomi 12's display is fluid. In addition, it houses a fast and accurate fingerprint reader. 
As for audio, the Xiaomi 12 has stereo speakers, one at each end of the chassis, compared to a quadruple array for its Pro version. They are provided by Harman Kardon and are Dolby Atmos compatible. 
The whole exposes a decent rendering, although the bass is lacking. The Dolby Atmos is somewhat disappointing as it sounds like a bad EQ setting. Like most smartphones, it doesn't have a headphone jack or a USB-C to 3.5mm adapter.
Performance
Snapdragon 8 Gen 1  

Up to 12 GB of RAM  

Up to 256 GB of storage  
Like the 12 Pro, the Xiaomi 12 features a Snapdragon 8 Gen 1, recognized as Qualcomm's latest flagship processor. It can be supported by a configuration of 8 or 12 GB of RAM with 128 or 256 GB of storage, not expandable.  
RAM is LPDDR5 and storage is UFS 3.1, being fast units, our model tested is considered to be in between, so it's no surprise that the benchmark results are impressive. 
With the Snapdragon 8 Gen 1, you'll get 5G, with support for 5G dual SIM standby. Also, Xiaomi has equipped its smartphone with Bluetooth 5.2 and, in other markets, with Wi-Fi 6E.  
Cameras
50MP main camera  

13MP ultra-wide  

Telemicro 5 Mp  

32MP selfie sensor   
With its Sony IMX766 main sensor, Xiaomi has gone up to 50 Mp, supported by a 13 Mp ultra-wide lens and a 5 Mp telemacro. 
This is a similar configuration to the Mi 11 launched last year. So if you're looking for more capable cameras, we'd recommend looking at the 12 Pro instead and its three 50MP sensors, one ultra-wide and one 2x telephoto.  
The prime lens performs excellently, with exposure, color accuracy and low noise, especially in low-light situations. The night mode, on the other hand, is able to highlight elements captured in complete darkness. 
When it comes to portrait shots, we noticed much better edge detection compared to its predecessor.  
The switch to the ultra-wide sensor doesn't show a big drop in quality and, unlike the OnePlus 9, its colors are consistent. Its super macro mode is available in the photo menu, where you'll find its aspect ratio, a timer, and other settings like Night and Slow motion modes.   
The macro lens is difficult to use because it requires you to be the correct distance from the subject for effective focusing, even when using it in auto. Either way, with a bit of patience you'll get some decent shots. 
The video quality of the Xiaomi 12 is outstanding, with plenty of detail at 1080p and 4K resolutions, rich colors. Its OIS (Optical Image Stabilization) keeps the device smooth when you're on the move.   
Finally, at the front, its 32 Mp selfie sensor does not have to be ashamed of the competition. 
Autonomy and charging
4500mAh  

67W wired charging  

50W wireless charging   
If we go by the general caliber of the Xiaomi 12, then its 4500 mAh battery seems to be reasonable. By the way, even though the 12 Pro is much larger, it only has an extra 100 mAh. 
Our PCMark battery test for Android found the Xiaomi 12 to last 9 hours and 32 minutes. high. 
Its battery life is average, so it's a good thing that Xiaomi offers fast charging.  
The 67W charger can take the Xiaomi 12 to 57% with a 15-minute charge and 90% in 30 minutes. You also get 50W wireless charging, which can reverse wireless charging to 10W.    
Like some competitors, including the Pixel 6, it also has adaptive charging. This records your habits during the night, then charges your smartphone while you sleep while ensuring that it reaches 100% before you wake up.
Software and updates
The Xiaomi 12 incorporates the latest version of Android 12 coupled with the brand's MIUI. The latter, with a somewhat childish but customizable appearance, includes preloaded applications such as Facebook, Amazon Shopping, Spotify and Joom. 
It takes time to adapt to the separation of notifications and quick settings, placed on either side of the notch. However, if you're a former iPhone owner, then you should get your bearings quickly. If you wish you can combine the different parameters. Nevertheless, the menu is strangely confusing, thus making the experience quite painful. 
The good news is that the Xiaomi 12 is expected to benefit from Android 13, 14 and 15 operating systems, as well as security updates.
Price and availability  
Officially released on March 28, 2022, the Xiaomi 12 is marketed from € 899.90 on the brand's website , before seeing the light of day on the market in April.  
You will have the choice between three configurations:
8GB/128GB 

8GB/256GB 

12GB/256GB   
You can also get it on the e-commerce sites Amazon , Boulanger and Fnac, or from the operators Orange , SFR , Bouygues Telecom and Free .
Clearly, the Xiaomi 12 matches the price of the Samsung Galaxy S22 and iPhone 13 .    
There are cheaper alternatives, like the $609 Google Pixel 6 . To discover others, do not hesitate to take a look at our comparison of the best mid-range smartphones .  
Conclusion
Beyond its compact design which is very pleasant, the Xiaomi 12 has convincing technical characteristics.  
It features a Snapdragon 8 Gen 1 chip, an AMOLED display with a 120Hz refresh rate, and 67W fast charging. It also has a solid main camera and a convincing ultra-wide sensor. 
Be careful though, it lacks some important elements such as a waterproof index and good autonomy. Also, MIUI continues to lag behind its rivals, which tends to make the user experience a bit laborious.