Is The Metaverse The Future Of Digital Marketing?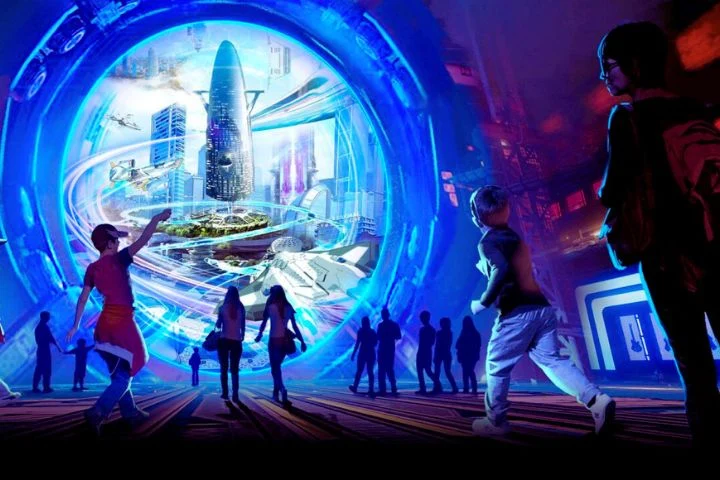 Is The Metaverse The Future Of Digital Marketing : In October of last year, Facebook announced the change of name to Meta to convey to the public everything that the company was beginning to encompass and what its new role in the Metaverse would be. Since then, a great debate has been opened about what exactly this concept is and what kind of experiences it will be able to provide to users.
A new way of interpreting reality, a digital revolution that has come to connect people through virtual worlds and augmented reality. The metaverse has brought about a new concept of interaction on the Internet and we can safely say that today it is unstoppable.
The New Direction For Digital Marketing
The need we feel to always be up-to-date is real, and not only for the big changes, but for each of the new trends that arise on the web. Being aware of everything that happens in the digital age is increasingly important, whether taking on the role of users, or entrepreneurs with the intention of retaining their customers and increasing their conversions through digital trends.
The metaverse is now the novelty that we all want to adapt to and include in our business models; a word that we should engrave on fire because soon it will begin to be used on a daily basis as much as WhatsApp or Google. Seeing an NBA final from the sofa at home as if we were in the stands or going virtually and interactively to a brand event will soon be possible. Sooner than we imagine!
The classic behavior of the consumer is submerged in a new level in which the offers are expanded, which translates into a new opportunity for companies to join the latest technology and take advantage of the infinite advantages it offers. Considering that the metaverse is not just the new fad, but the new path toward a reality, brands will not be able to ignore it for their future marketing strategies.
All this offers endless possibilities and opportunities for brands; now they are the ones in charge of identifying which are the ones that best fit according to their values, sector, and brand personality. Did you know that many of the most recognized worldwide have already launched into this new virtual world? Gucci, Coca-Cola, and Louis Vuitton are more than aware of the need to adapt to the metaverse and have wanted to be the first to experiment with this new experience.
An Opportunity To Create a Brand Presence
As its creators themselves affirm, one of the main objectives of the metaverse is that this alternative reality can be combined with life on the physical plane, that is, that it be interoperable and allow brands to enter the world of the client.
This gives rise to a great opportunity to attract and retain consumers. If a brand is able to establish connections with its customers in a fun and interesting way through digital space, the opportunities for loyalty and trust in the brand are endless.
How Can Organizations Improve The Customer Experience and Relationship With Their Customers?
Omnichannel goes beyond
Buying and doing business from any device, at any time and at all hours of the day was already possible. But now the possibilities of interaction are even greater thanks to 3D and virtual reality, which makes technological innovation necessary for brands.
Metaversian user
With the metaverse, hyper-personalization has taken a giant leap. Brands are aware of the importance of offering not only a product, but also a valuable experience for their customers. Now it is easier by focusing on technology and data.
Loyalty Awards
As you can imagine, unique experiences can be found in virtual reality that cannot be experienced in the real world in the same way. This is key to showing it to the customer as a reward and a reward for their loyalty to the brand.
4 Tips To Be a Metaverse Marketer
As younger consumers connect with the metaversian world, companies being able to connect with them through this channel will help increase profits. What type of emotions brands want to evoke in their audience when interacting is an important decision, since it is not only about selling, but about building loyalty through experiences.
Can you imagine going through the digital dimension to a physical event? A concert, an exhibition, or the presentation of a new product can now be experienced up close without really being so.
The current paradigm of voice or text searches could take a big turn. Visual research is the new content search modality that uses images as inputs instead of texts. This means that the user can upload a photo to a search engine and thus find related content.
Redeeming promotional codes on the virtual platform that have been generated in the real world is now possible, and brands have to take advantage of it.
The world of influencers is only growing. More and more brands trust these figures to promote their products and reach them in the most direct, fast and profitable way that exists.
There are already many companies that are managing their relationships with influencers through the metaverse. The idea is to create a "virtual twin" of this well-known figure and that this is at the service of the needs of the brand.
As you can see, brands are now in a stage of survival in the age of technology and intelligence; and the goal is to successfully overcome it. As numerous studies point out, it is expected that within five years 70% of brands will have a presence in the metaverse