How To Get Free Advertising On Google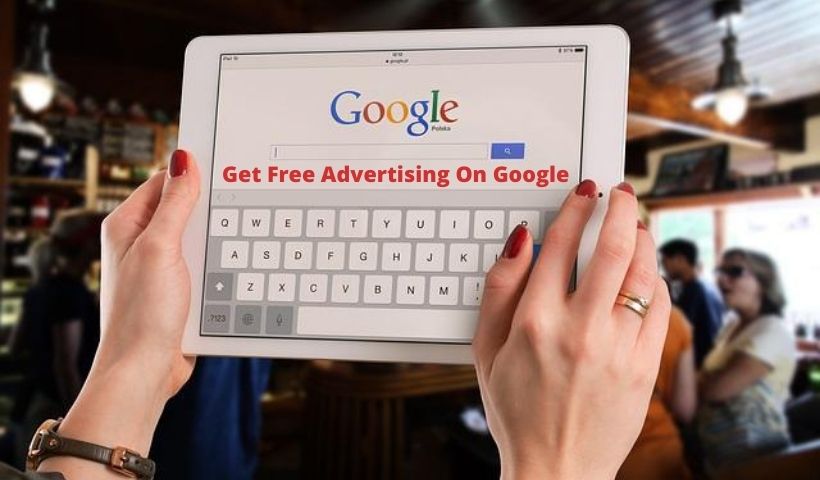 Get Free Advertising : Companies need a lot of support to thrive, no matter the season, the stage they are in or if there are external factors that present more difficult challenges to succeed. So what better than free advertising?
In addition to what you can post on social networks such as Facebook or Twitter, there is a very attractive option that can be part of your online marketing strategy, and in which you will not have to invest resources. You can find this alternative in the Google search engine.   
Can you imagine having a good presence in the browser in which more than 63,000 searches are made every second? In this article we will mention what you need to achieve it and some tips to get the most out of this powerful tool through two platforms optimized for business: Google My Business and Google Shopping.
What Is Google My Business?
Google My Business, is a program that allows your business to appear with detailed information on Google Maps and in searches made directly in the Google search engine.
You can add your website, schedules, phone number, images, descriptions, and other elements that help your potential customers get to know you. By having an account there, you can post information relevant to your audience. This is how more users will have the opportunity to find you. It is basically an updated (and improved) version of Google Local that is no longer active for individuals since March 2019.
In response to successful business search applications like Yelp, Google expanded its coverage of local business search with its Google Maps app. Thanks to this location platform, it has been possible to create better communication and collaboration with customers, because now they have the possibility to ask questions about your business, read the opinions of others and publish their reviews. Thus, you have at hand an enriched, free and easy to use feature.
How does Google My Business work?
It's basically a way to advertise your local business on Google for free. This will help your ad appear in searches and get more traffic, leads, and customers. Google My Business will include your information in the Google search engine and Google Maps. Your customers will be able to find you, no matter what device they use, whether it's computers, tablets or smartphones.
Now you can give information to your customers about how to get to your business, including address, schedules and phone so they can book (if it is a restaurant, for example).
For their part, your customers will be able to take or share photos of the place when they visit it and make comments through their own Google account. This way you will know the customers who have already visited you, in addition to the rating they have given to your business.
For all the above, it will be very important that you provide your customer with a very pleasant place, with a product that meets their expectations and, above all, with an extraordinary service.
How to get free advertising with Google My Business
If you still do not have an account in Google My Business, we share all the steps to start and improve your data sheet.
Create your Google My Business account
First of all, and as it is necessary to take advantage of all the tools of the Google suite, you will have to open an email account in Gmail for your business. This account will help you sign up for Google My Business.
Google will ask you for the name of your business. You will then need to choose a "Business Category".
Whether you have a physical store or office or operate exclusively online, you'll need to consider the miles and area in which your target audience moves, as well as the territory in which you can deliver or service.
Google will ask for your contact details. Have at hand the phone number through which they can establish communication with you and, if you have a website, the URL of your company's electronic page.
As a next step, you will need to indicate what services your company offers. This will help you make the search engine visible to the indicated audiences.
Finally, Google will ask you if you want to open a free communication channel with your customers. This feature will make it easier for you to answer their questions and interact with your audience.
Optimize your business page
Once your setup process is complete you will be able to edit your profile. Ideally, you should give all the information that Google asks you to get a better search optimization. Here are some of the data you can include or edit:
Your address

Phone number, email address and any contact information

Your website

Hours of Operation

Photos of your business and your products

A detailed description of what your business offers

Prices or menu information

The year you opened your business

Attributes of your business, such as "free Wi-Fi", "accept card payments", "valet parking service", etc.
All these elements can be searched for by customers in a specific way. For example, if someone wants to find a "budget Mexican restaurant open after 8 p.m.", Google will examine your business profile details and prioritize your restaurant if it manages to relevantly match those details.
Here's an example of what a business that provided all of its information looks like on Google:
Verify and monitor your business page
If you've already created your Google My Business profile, be sure to verify your registration so Google knows it's real and legitimate. There are a few ways to do this, including verification by email, mail, and phone.
You can also download the Google My Business app to monitor how your business is doing from your phone. There is a version for iOS and another for Android.
Don't forget SEO
Taking advantage of free SEO strategies can also help your website appear at the top of search results. These tactics can be simple and straightforward to apply in blogging, web design, and other processes.
What Is Google Shopping?
Google Shopping is another innovative tool from Google that makes it easier for consumers to find the product they are looking for at the best price. This platform provides useful information to users so that they can compare prices and locate those businesses where they can acquire what they need.
All a buyer needs to do is type in the name of the product or some particular feature. The browser will throw all the sales results with the link of those companies that offer it in their digital sales channels.
Users can choose filters by price, materials, colors, brand or seller to find the best purchase option. They can even filter only those businesses that offer free shipping.
How does Google Shopping work?
Unlike Google My Business, the Google Shopping shopping tool is not directly related to the customer experience or the information you present about your online business; Google Shopping only takes into account your company's actual behavior in the marketplace through a collection of your website data.
The search engine will show consumers the price that the product has in your business, the shipping characteristics and the reviews of your company and the product, in case you have a comment option enabled on your website (Google Shopping feeds on the information of your electronic sales channel).
To take advantage of this tool as advertising you must improve your sales prices, expand the portfolio of products you sell and give the best solution to the audience you are targeting. Remember that the consumer public will have greater interest in low costs, free delivery services or companies that have positive reviews.
How to get free advertising with Google Shopping
Create a Google Merchant account
To appear in the list of products in the Google Shopping tab, you need to subscribe to the Google Merchant Center platform, which is the same as that used by companies that pay for Google advertising services. However, its use is free and it is not necessary to hire Google Ads advertising.
To carry out the registration you only have to indicate the name of your company, the country of operation and the sales channel in which you operate, either online or physically.
Enter your company details
Once you've registered your business, it's important that you capture some contact details and information that will help Google locate your business. If you already have a profile in My Business, it will be easier to link the information. Otherwise, the most important data you have to share with Google is the email address of your website, since that will be the means of direct location of the products you offer.
Enter your product details
Google Merchant allows you to create a list of all the products you offer on your platform. To make this task more efficient, we recommend relying on a computer expert (to automate the process by translating your site's product information into search data for Google). Each product should have a name, a cost and a list of features, as well as the link to the review sector of your site, if any.
Take advantage of SEO marketing
In Google Shopping, as well as in Google My Business, the use of free advertising is entirely up to you. If you create a good list of products it is much easier for you to appear in the main results.
To compete with companies that pay for Google's advertising services, it will be important that you know your audience. Use names for your merchandise that you know your audience will search for, use your product descriptions as search metadata and complete the list with all the possible features to make it easy to find you (brand, color, material, size, price, etc.).
Now that you know the benefits and scope of these Google tools to obtain free advertising, it is time to see some examples that show the advantages of taking advantage of these platforms.