How Can Social Selling Help You?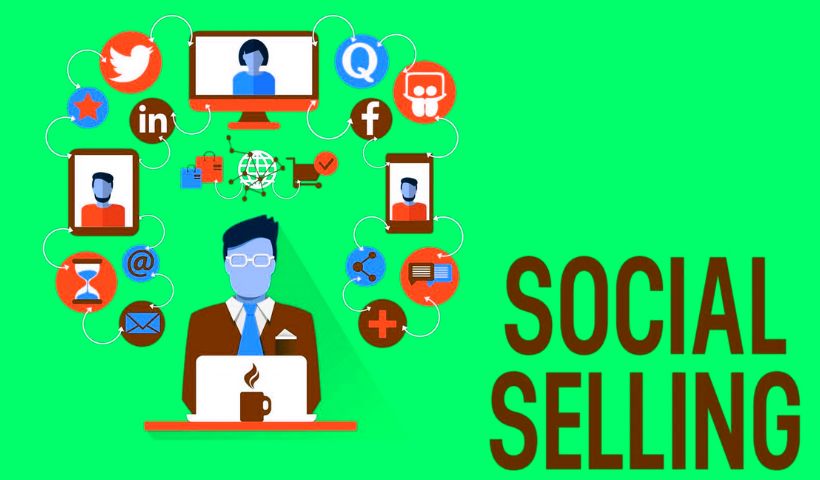 Social Selling : The Internet has meant changes in many ways, also in the relationship between a consumer and the company. The increase in competition and the visibility provided by the network have caused customers to be increasingly demanding and dispersed. 
In this context, brands must strive to establish a good relationship with their potential customers that leads to the purchase, which is why companies incorporate online marketing techniques into their business plan, such as email marketing or social selling.
This last concept is gaining relevance, and consists of preparing a sales strategy using social networks. Although a priori it may seem simple, these platforms have their own characteristics that make them very profitable but if not taken into account can even negatively affect business development. Social selling is closely related to the brand image, so it is necessary to talk about this before entering fully into the tips we have prepared:
The Importance Of Brand Image
Your actions, the way you show yourself to your target audience, your relationship with your consumers  all these factors greatly influence the image that your customers have of your company, but are you taking care of them enough?
When your company is considered the best in a specific sector, the chances of generating contacts and working them to focus them on the purchase are very high. Think about the big brands in the market: if they transmit the right values they will be chosen over other companies that go more unnoticed or have less presence.
A profitable brand image strategy includes elements of corporate identity such as the logo, the web or the signage but also other aspects such as the direct relationship with users. In this case, you can take into account different techniques, for example social selling, which we talked about in the introduction. 
A social media strategy is a very effective way to brand and get in touch with your customers or future consumers, focusing your efforts on the sale thanks to the good feelings that your company awakens.
How To Use Social Media To Improve The Relationship With Prospects
Since these platforms became fashionable, many are the companies that consider that they must improve their presence. Social media allows you to get in touch with your potential customers in a space where they spend a lot of time, but a powerful social media strategy requires planning to achieve the best results. That is why in this article we want to talk about profitable practices on these platforms and others that can become big mistakes:
Good Practices In Social Networks
To understand how you should use these platforms you must first think about what their purpose is. Users of social networks seek to spend some leisure time in contact with friends or family, to meet people or simply to disconnect. Ideally, you create content that adds value to them, invites interaction and above all that arouses their interest. 
For example, contests or sweepstakes are resources that work very well, because it is content that is shared in a very simple way (especially if it is a requirement to participate), that generates many visits to the web and that shows specific products that can arouse the interest of potential customers. Have you thought about making a contest whose prize is any of the items you sell? This will help you generate branding and also gain followers, if you include that one of the requirements is to "like" your page or follow it.
Sharing your own content on social networks is also a good way to increase the interest of your users. If you have a blog on your website, you can create interesting articles and share them on these platforms to generate visits to your page and also take advantage of it to improve your positioning.
Common Mistakes In Social Networks
If you do not have a social media strategy you will be more exposed to making important mistakes when publishing. We want to summarize some of them so that you avoid them as much as possible:
1.- Confuse social networks with a sales platform
It may be the most important mistake and the one that is most worth mentioning. If you launch messages that are too advertising or that do not add value to your followers, you can transmit an image contrary to the one you have in mind. Remember that social networks are an instrument of interaction with your potential customers or those you have captured, very effective because you address them in an informal environment. The users of these platforms respond very well to branding campaigns, content of interest and contests, but the attempt at direct sales creates the opposite effect in them.
2.- Wanting to cover everything
Many companies make the mistake of wanting to be on too many social platforms at once. Each of these networks has its own characteristics, so you should think about which ones compensate you to have a presence. If not, you can waste effort in places where your target is not present.
3.- Not knowing your target audience
It's important to know who you're going to target to find the right content, theme, and tone to post. In addition, knowing what times your target is usually connected will help you publish at the time when there are more reach options.
4.- Not having a routine
You must have a content calendar with which you carry out a publication routine. Otherwise, your users will have the feeling that you have a dispersed strategy and you will not strengthen ties with them.
5.- Not measuring the results
You must know month by month how your social media strategy is progressing and identify those practices that do not work and that you can change. This way you will be able to polish your campaigns so that they give the maximum benefit. 
5 Tips To Get The Most Out Of Social Selling
To finish this post we want to recommend some actions with which you will get the most out of your strategy:
1.- Plan
The best thing you can do is to know your target, know your objectives and mark some lines of action that work as a script so that everything comes out to asking..
2.- Adds value
Remember that your followers do not value direct selling, so publish content that interests them and above all that surprises them.
3.- Interact
Respond to all comments and try to invite your followers to comment on your brand. This is information that can be very useful! The best valued brands are those that engage with their followers and know how to establish a relationship of value.
4.- Measure
Always analyze your strategies, think about how to improve them and keep perfecting the ones that work. You will see how you manage to get your campaigns on track to be as effective as possible!
5.- Rate
If you correctly interpret the advantages that a social media strategy brings to your marketing plan, you can achieve very positive results. Remember that they are not a sales platform, but a perfect way to brand and earn the trust of your users.
Social networks will help you to get closer to your users, share with them content of interest, receive feedback on the effectiveness of your products or services and improve your brand image, but it is important that all the actions you carry out on these platforms are included in a plan based on your objectives, the characteristics of your company and the actions of the competition.