Drive More Sales With Digital Signage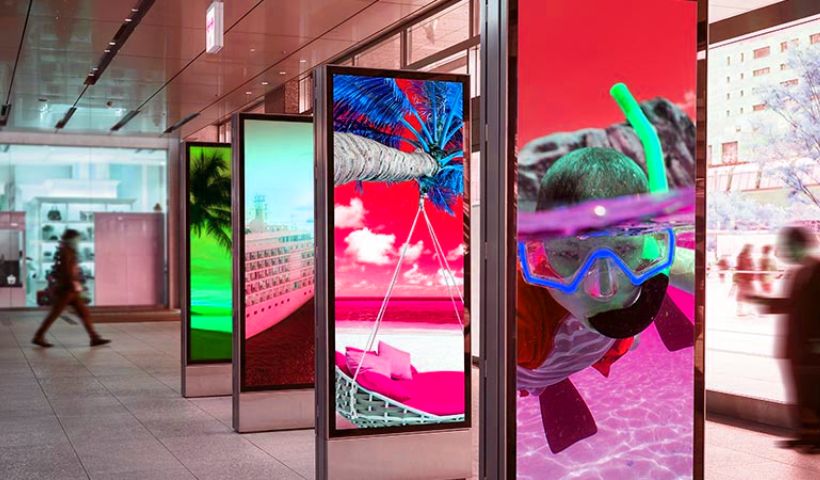 Digital signage helps companies meet several challenges of sales in a physical world, from communication and marketing to customer relations. In the street where distractions are numerous, digital signage offers any type of company to better capture the attention of the passer-by. In-store, the provision of screens provides a more rewarding customer experience. Switching from static communication to digital signage could well inflate your revenue, here's how.
Deliver A Modern-Day Customer Experience
Today, as soon as he lifts his nose from his smartphone, the consumer's attention is solicited from all sides. Impossible to take a step without being assailed with information, that's why a clear and visible branding is the strength of an impactful showcase. 
Did you know that digital signage attracts 400% more views than conventional displays? Faced with the overflow of information perceived by our five senses, the dynamic screen breaks the hubbub to inform customers in real time, without overwhelming them. 
Because today, a positive customer experience is largely about getting the information you're looking for when you need it. For example, a digital display can be programmed with a selection of content adapted to the time of day, the neighborhood or the radius in which it is located.
Digital Signage Makes It Easy To Take Information
The digital signage screen makes it possible to overcome two obstacles to sales: the lack of information and the visualization of the product. As we know, time has become a precious commodity and the purchase decision is made both remotely and in store. In the window, a digital display that works 24 hours a day presents your product or service to people who would otherwise rarely have the time to spend in store. 
The digitization of the presentation in the window or in store corresponds to a mode of consumption several times, reducing the gap between the customer experience in physics and the time of reflection outside opening hours.
Digital signage gathers all the relevant information to transform the purchase intention (a reflection) into a transaction (an action). It helps convince the customer that your product or service perfectly meets their needs. For example, a short animated video showing a property will allow the client to better project himself into the space and make an appointment for a visit.
Digital signage offers a higher memorization rate than other modes of communication (television, radio or magazine). When we consult a bright screen, or scroll through the images in the case of a digital touch display, we are in a proactive position and conducive to better information taking. Let's be clear, we are far from scrolling to infinity from the bottom of the sofa which is not very active!
An Emotional Customer Experience
As you will have understood, digital signage brings the customer closer to the product or service. Through this medium, we will seek to create a relationship of proximity, especially if it is a digital touch display such as a tablet. For example, you can set up a few screens in strategic locations in the store and encourage customers to view products that complement their purchase. 
They will also be able to find references that they would have spotted on your e-commerce site or in the press. The digital display also serves as a purchasing advisor: a multi-tasking food processor needs accessories and you can't buy a bike without getting a helmet and a pump.
The feeling of novelty and limited time has always been an important selling factor and digital signage integrates this lever of the customer experience. Digital signage amplifies the mechanism behind impulse buying: the promotion highlighted in the sales space with a given time reinforces the windfall effect. 1 in 5 customers make an impulse purchase on items spotted on digital signage screens. The easy and real-time update of the player allows you to scroll through the offers of the day and insist on their temporality.
A close relationship is built around the sense of belonging. Technology connects your marketing actions to your customers' habits. A contest on social networks broadcast on digital signage in stores will certainly bring you subscribers and allow you to enter their daily lives via the smartphone. You can also encourage your customers to leave a review on Google or TripAdvisor for a discount in store.
Digital signage offers a new way to align their selling actions with your target's buying behavior. However, it will be essential for you to identify the needs of your customers, otherwise any digital signage solution will have only a limited effect. In stores, digital signage helps reduce the friction faced by your customers and transform a simple passage into a customer relationship that will be enriched over time.