All You Need To Know About Blended Marketing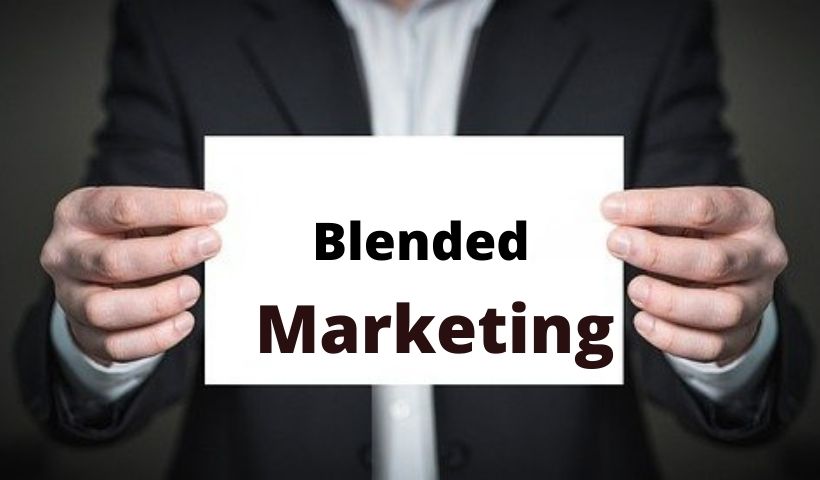 We're going to share our thoughts on blended marketing. One of the aspects that causes the most headaches for brands is the way they deal with the communication of their products or services. Some of the decisions that are made determine the line that separates success from failure. The notoriety of ostracism. The memory of oblivion.
Faced with such a company, we must analyze all possible ways to minimize risks and trace a path where  Branding  and the conversation around the brand generate the best possible image in the minds of users. From this vicissitude arises the  Blended Marketing . The perfect combination of online and offline marketing strategies  .
We live in a world where we receive advertising impacts through multiple channels, which some time ago were unthinkable. The online world has capillarized communication: Google, web pages, forums, blogs, Facebook, Twitter, Instagram… Like a large river that suddenly divides into dozens of small streams that converge into an ocean. And that ocean, is you.
The magnitude reached by digital advertising is such that over the years its impact has created new actions that consumers carry out in their  customer journey  until the final purchase. This  Nielsen study  categorizes the different channels or means of communication through which we can be impacted and the trust that each of them generates in the consumer in England.
If we decide to implement a Blended Marketing strategy  , we are choosing to transmit a single message, but adapted and connected to multiple channels.
At this point,  having an understanding of the  online environment and the  necessary skills and competencies to develop such a strategy is vital to success . Obviously, it is also necessary to have  training and experience in offline marketing .
Also read : Brand Ambassadors
How To Carry Out a Blended Marketing strategy?
What do we want to achieve? Notoriety,  engagement, leads,  sales… Having clear objectives, what audience are we targeting? Is it in the channels where we are going to impact? An exhaustive analysis and a precise segmentation will be essential to determine the success of the action. The radiography of the consumer will allow us to evaluate and decide on the different means or channels of  online and offline communication  that are available.
Not all of them will be useful or suitable for the action of  Blended Marketing : radio, television, newspapers, posters, events, social networks, campaigns with  influencers , SEM, SEO or  Content Marketing, Email Marketing…Once we close these critical aspects, what metrics will we have to monitor to measure the development of the campaign? It is convenient to separate offline metrics from online metrics to compare different market parameters and be able to evaluate with certainty the performance of the action.
Master And Use The 9 "Ps" of Online And Offline Marketing
A concept in continuous debate and in constant evolution: How many "Ps" does Marketing now have? There are many points of view on this aspect, but I would like to highlight the "P" of people above the rest of "Pes". Now, more than ever, people have control of practically all channels, personalizing and adapting them to our needs. Connecting with people to stand out from a saturated market full of brands has to be our highest priority.
Analyzing the 9 "Ps" is a must that must be done before executing the  decided Blended Marketing strategy: 
People are the center of the universe of any brand. Everything else orbits around them. Having your needs and impulses crystal clear provides valuable information, and here, digital marketing has a lot to contribute.

Calculated predictions are created based on the behavior of the previous "P", people.  Web analytics tools, social network monitoring tools,  Big Data tools … can specify and draw  targets  very quickly.

Personalization. The result of the calculated predictions leads to the personalization of exclusive offers for specific people. There is no such thing as general publicity, everyone receives what they want to receive, and this is how they constantly explain it to the world around them: fishing rods for those who are looking for how to fish for trout, diapers for moms and dads, video games for generation Z or  gaming  millennials…

Share information between several users generating conversations around specific brands. Recommending is a determining factor to increase credibility and sales. Controlling  peer to peer as much as possible can become a differential fact and a competitive advantage for any company. Blended Marketing campaigns   have high conversation rates and are likely to lead to good product or service recommendations.

When a need is covered by providing value for the user, satisfied and proud people are created to be able to count on something that is important to them in their lives. This situation leads to customer communities that connect, generating a space, in many cases digital, where the user is naturally loyal and a bond is created that is spreading to more and more people. It is the "P" of  participation.

The  promotion or communication aims to spread a claim, idea or message and that it has an adequate impact on the target audience for which it is intended. The final objectives are: to communicate the characteristics of the product, to communicate the benefits of the product, and that, in addition, thanks to this, the product is remembered or bought.

At this point, it may seem that knowing the product is obvious, but it is worth remembering and reviewing certain elements that must be taken into account , such as: knowing our product portfolio and which of them we are going to offer to the market through a  Blended Marketing strategy ,  knowing how different it is from other similar ones, what the brand means to consumers and the presentation with which we want to penetrate or continue in the market.

Always keep in mind the price policy with which you will compete in the market . It is possible that a studied starting price must be adapted over time due to market fluctuations and people's purchasing power. adapt over time if necessary. Analyze the costs of production and distribution, the margin you want to obtain, elements of the environment such as competition, substitute products.

Last but not least, the placement of the product or service : how are we going to acquire it? On what physical or digital platforms will it be hosted? What distribution channels will exist? All these questions must be resolved before a  Blended Marketing campaign. If we want to increase sales, there is nothing we can do if we cannot absorb and satisfy the demand.
Also Read : Marketing Intelligence